Head Gardener's Log, July 20th, 2020
Make It Monday!
The Bachi Ball Shawl takes two of Noro's giant yarn balls and marries them together in a beautiful riot of color and texture. The two yarns are dyed in the same colorways but Bachi is a smooth wool with a matte finish and pure colors, while Kanzashi is a wild boucle textured strand. The featured project is a simple asymmetric triangle with an easy garter ridge stitch pattern, and the large needles make it a quick knit too! The shawl pictured below was created with Kit Number 7.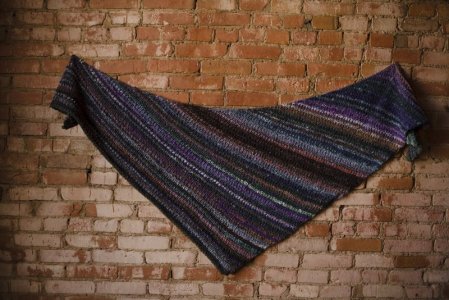 Original Price: $92.95
Sale Price: $75
Shop here!

---

Nomadic Knits, Issue 7: Michigan PREORDER

As a Michigander, I know how beautifully rich our state is, both with the amazing natural resources and beauty AND the talent of our local fiber industry. That's why I am always SO EXCITED when our state is featured by the larger fiber community! This issue of Nomadic Knits is the largest ever, rich with knitting patterns featuring the talents of many local indie dyers (including many of our favorites!), as well as images from around our great state. The knitting patterns include a hat, socks, shawls, and sweaters, and range from fingering weight to worsted and from beginner to advanced. Fall in love with Michigan from the comfort of your home; explore the region with us as you turn the pages, meet the local indie dyers, and pick a new project to cast on.


**This is a preorder**

You will receive

a digital download code when the digital magazine goes live

via email (please verify that your email address is correct at checkout). The print copies should be available for pick up in store by August 31st and we will ship as soon as we can,

barring further COVID delays

.
Shop here!
---

Launch Party with AJHC Wools

Join me live on The Yarn Garden's Facebook Page for a virtual launch party! I am so excited and honored to be the first one to show you the new gorgeous additions to the Succulent Collection. You'll be the first to see 5 BRAND NEW colors from the creative genius of AJHC Wools, on 3 different bases, plus all the revelry and fun you've come to expect. Click the "Watch here" link below to get a countdown/reminder from Facebook. See you there, drink in hand!



Watch here!

---

COVID - 19 Updates

First of all, thank you so much to those of you that have come into YG to shop in the store. I appreciate that you have followed all the new mandates and regulations in place to help keep everyone safe. Please keep in mind that many of them are beyond my control at this point, and we are doing our best to continue to provide a wonderful experience for you.

We are continuing to offer virtual shopping appointments and contactless curbside pick up to those customers that request it (please choose "Curbside Pickup" as your shipping option when checking out on the website and mention it if you're ordering over the phone). Helping you pick out your next project is one of my favorite things!

Our open hours are listed in the image below, but I am happy to make private shopping appointments outside of those hours with enough notice. Please call the shop (517)541-9323 during the hours below to set one up!



Stay safe and healthy, friends!

Happy stitching,
Lindsay, your Head Gardener