Skip Navigation
Website Accessibility



One of my favorite things in the world is to collaborate with other small biz makers. One of my favorites to work with is Jean Story of MidMitten Designs, maker of high quality project bags (shop her current collection at
https://www.etsy.com/shop/MidMittenDesigns

).
I invite you now to peek at our newest collaboration. This is the first in the "Sassy Sacks" project bags line, featuring a sturdy canvas base with a tongue-in-cheek saying and a fun quilting cotton top, with a contrast lining fabric. For the on-the-go knitter, the cotton webbing handle allows the bag to dangle from the knitter's wrist, while the polyester cord drawstring keeps her yarn securely inside. Once she reaches her destination, the quilting cotton top folds down, creating a sturdy basket to hold your WIPs.
I have the exciting privilege of offering a Limited Edition version, especially for my YG gnomes... available only at YG! I helped select the outer fabric and liner fabric, along with the sass on the canvas base.
Of course, what project bag is complete without a little bling? I'm thrilled to be offering brand new enamel pins with the YG logo, the perfect flair to any bag (or jean jacket!).
Next time you're strolling through the Garden, seek out these great new additions to decide if they should come home with you! Or, if you already know they belong in your collection, buy them at the following links:
Jean will be launching the rest of her "Sassy Sacks" line at Winter Wine and Wool, at the Sandhill Crane Vineyards in Jackson, MI, later this month. She's created a collection of 20+ different project bags with attitude (my personal fave is the "Made, Not Manufactured" bag). Go check them out... and visit our friend AJ of AJHC Wools in her booth at the same time!
Head Gardener's Log;
May 4th, 2018
YG Seed Club, Season 4
Greetings, friends! I am deep in the planning phase for the next season of Seed Club. For those of you unfamiliar with Seed Club, it is YG's monthly yarn subscription, with Season 4 starting in August and running for nine months. Every month I curate a Seed Packet containing a unique skein of yarn, pattern instructions, and a little something extra, along with several additional pattern ideas. This season I have invited nine dyers to be inspired by the theme of "water". Water is crucial for the growth of all things, but especially things in a garden! I have already been working with several dyers on their colorways, and I am thrilled with the creativity these artists have come up with. Sign ups will begin on June 1st, but....

...one (or more!) lucky winners will be getting their first Seed Club packet for FREE! Just sign up with your name and email address to stay updated and hear more details as they come available.*
https://www.yarngardenmichigan.com/yarn-garden-seed-club


*Note: this does not sign you up for Season 4 of the Seed Club.


Season 3 Round Up!


---
NORO!!!!

Anybody out there a Noro fan? If you know anything about me, you know I am! (My dog is named Noro, and it's not after the virus).
I just received in a zillion colors of brand new colors of my favorite Noro yarn of all, Kureyon. Why do I love it? The colors are pure, the yarn softens beautifully, and did I mention the COLOR!? And guess WHAT?! There's a new book to celebrate the awesomeness that is Kureyon.

And guess what AGAIN? You can buy it online and pick it up in store by clicking below!! And I'm always happy to send my yarn babies off to a good home.



https://www.yarngardenmichigan.com/shop/c/p/Kureyon-x30979587.htm
Noro Kureyon 30th Anniversary Book!
---
Gnome On The Roam

I found this lovely little company while at a wholesale market earlier this year. The gnome theme caught my eye right away (of course), then the women that were presenting the toy were infectious with their laughter and happiness. And, well, gnomes in a garden are a must! Click on the picture below to see what it's all about!

---
Mother's Day is Coming!

Are you ready?? Check out the pictures below to see the gift-giving options I've curated over the past year!


Lotion bars, made in delicious scents using essential oils. My favorite is lemongrass, though the lavender mint is a close second!


This collection of jewelry is unique in that all the metal is lined on the inside with leather, so it is extremely comfortable to wear. Those leather wrap bracelets in the middle make fantastic shawl closures as well!


These nifty bracelets may be in the same category as above, but they also serve a functional purpose as well! They're accurate rulers, perfect for any crafter. Two sizes in two different colors are in stock.


From the same inventive company as the leather wrist rulers (above) is this nifty gadget. It has absolutely nothing to do with the fiber arts, but everyone can use it! It's a double ended suction cup, and it will hold your electronic device on any flat surface. Maybe you can file this idea away for Father's Day too!


I loved these candles the minute I saw them. I love the way they look, and the smells are amazing. Lemongrass, Fresh Cut Grass, and Vanilla Latte are a few of my favorites. And, they're made in Kzoo! How cool is that??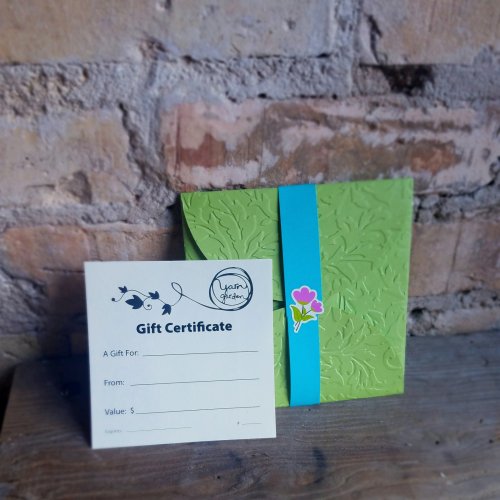 And last but not least, the gift certificate. Give your mom the experience of all the textures, inspiring displays, and delicious smells that are waiting to be discovered, and let her pick out her own gift. She'll thank you for it!

---
What's On My Needles

My Ninilchik Swoncho is SO close to being done! I am crossing my fingers that I can bind off this weekend. Watch for photos next week!

I have been pretty monogamous with my swoncho, so I haven't been knitting much else. But I did manage to find some time to adopt a gnome for myself and properly dress him. What do you think?



Why the Head Gardener Learned to Knit
I always like to hear a good "why I learned to knit" story. So here's mine!
When I was a saucy teenager, about 16 years old, I was playing at a volleyball tournament in Marshall, MI. As always, my amazing parents were there, cheering me and my team on. And as always, we lost. Very quickly. Mom and I decided to venture down town, since it was still early and Marshall has a cute downtown area! Now, let's back up the story a little...
Mom and I had a booth at our local holiday craft show, where we happened to be situated by a wonderful knitter, selling her felted purse creations. I fell in love with the bags, and was fascinated by the knitting process. Little did I know, that knitter would have a huge impact on my life! I thought and thought about those bags, and I bugged and I bugged Mom about teaching me to knit. Okay, fast forward back to that disappointing volleyball tournament in Marshall...
Downtown Marshall was a beautiful little knit shop, the first one I ever stepped foot in. It was called In Sheep's Clothing, and I remember being in awe of ALL the different kinds of yarn, and the rainbow of colors. I was instantly drawn to a cupboard of brightly colored, striping wool yarn. The owner had kits all made up for felted purses, ready to go! And so started my love affair with wool, color, knitting, and Noro! My mom, bless her, bought me a kit made up of Noro Kureyon and Plymouth Galway with the stipulation that I had a month to knit the purse. If I didn't stick with it, then I had to pay her back. Yikes! That was a lot of money to a teenager with her first job. Needless to say, I was motivated (dang, that mom of mine is a genius!). So, after a few lessons from her, and a few consultations with Nanny (my grandmother), I had a felted purse completed a week later and I was hooked.
What was your first project? Share with me the reason why YOU started knitting in the comments!